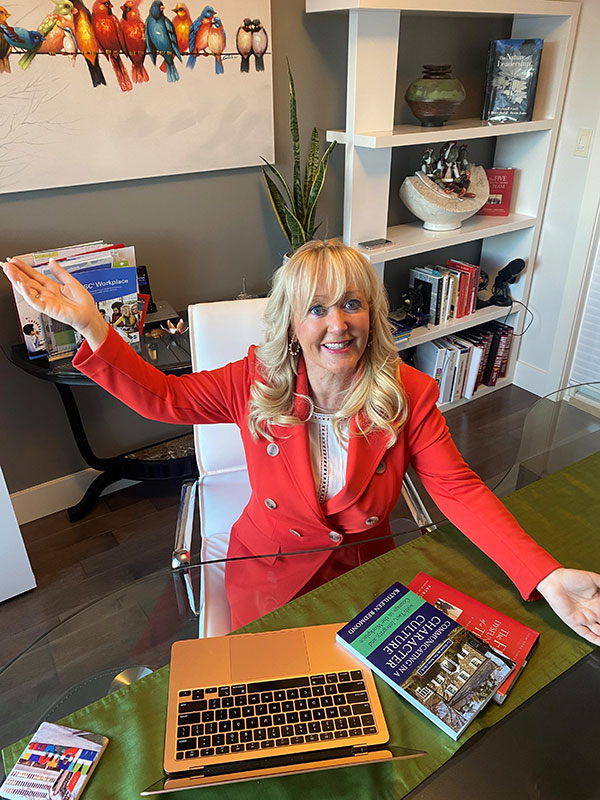 Denise is the founder and President of The Learning Edge. Denise started her business in 1994, and for more than 27 years has worked extensively with clients in Canada and the United States. The Learning Edge's model is brokering learning and development solutions through a network of professionals. Denise's primary focus is on teambuilding, leadership, management, certification, and Train the Trainer programs. Denise is reputed for her coaching skills with employing a 363 for Leaders tool where she distills the information from raters' feedback to focus on the leader's top 3 strengths and top 3 requested areas for development. With more than 30 years' experience in the learning and development industry, Denise and her team are positioned to address a broad range of business solutions.
In addition to her formal education, Denise continues to enhance her business and facilitation skills through certification programs such as The Heart of Coaching.  Denise's priority is to always be at the edge of innovative solutions available in the marketplace.  In 2021, Denise collaborated with a team of professionals to launch "Connections Leadership Journey". This 8-module program is designed for all levels of leaders.
Denise is certified to facilitate all Wiley's solutions including Everything DiSC Workplace, Management, Sales, Work of Leaders and Train the Trainer. Her certification to deliver The Five Behaviors of a Cohesive Team enables Denise to work with leaders to apply their leadership skills to building high performing teams. Denise has realized success through results where she has developed customized leadership solutions using her certification from Integro Leadership Institute and Trinity Training and Development. Certification through the Covey organization has provided great insights to Denise's facilitation of leadership development programs.
Being an entrepreneur is a great fit for Denise in that she can partner with a diverse client group on a long-term basis to really understand their needs and recommend timely interventions. Denise's 8-year term as Manager, Business Training and Consulting with Business Development Bank of Canada gave her a great springboard to launch her own business with confidence.
Denise is passionate about making a positive difference for individuals and organizations. She is committed to being a reliable partner to assist individuals, teams and organizations realize their potential. 


Testimonials About Denise
Cory Pageau, Arlanxeo Canada
"Denise helps me see the trees for the forest and truly understand with small tweaks I can work on my perceived areas that need to show up more while looking at what is already working."
Jessalyn Watt, Learning and Development Advisor, Copperfin Credit Union
"When all travel got cancelled because of Covid-19 I was super disappointed on missing out on my Train the Trainer DiSC course in Saskatoon.  Was super happy when Denise reached out and offered to do the training with me one on one over video conference. It felt really good to spend the afternoon focusing on my personal Learning and Development with Denise and I am very excited to bring what I learned into my organization."
Tennille Zatrepalek, Training Specialist, Affinity Credit Union
"I wanted to let you know how much I valued your training. Right from our first phone call with you, it was clear you wanted us to succeed and your passion for the material was contagious. It was so helpful seeing you go through the material with our pilot group and I loved how you continually came to let us know why or how you did different things. It helped so much hearing your best practices and rationale for doing what you did. You demonstrated you were an expert and I respected you more and more as the sessions went on. You were able to quickly build a trusting relationship and that made the certification process much more comfortable. I've been running workshops and doing presentations for years, but the few days we spent with you during certification and the specific feedback (praise and corrective) I received from you was more valuable than anything I've ever received in the past. So many participants only focus on the positive, but it's hard to improve when all you're hearing is vague, positive feedback.
I learned so much from you. The specific feedback you provided to me during certification helped me become a better facilitator and I am so grateful for it!"
Jennifer McGill, General Manager, Masonite
"I have had the pleasure of working with Denise for several years and with multiple teams that I have managed in different industries. Denise is a very skilled facilitator who is able to quickly identify strengths within teams that can be built upon to help bolster exceptional results and at the same time put her finger on what is getting in the way from success. She brings a positive dynamism to every session she runs. She is able to draw out examples that are relevant to the audience and help ground the material. She is a quick and adept student of human behavior and leveraging DiSC, is able to help people at varying levels of organizations identify their strengths and blind spots so they can be their best. This has created a language in the organizations I work in so that our teams can help each other truly be their best. I have also had the privilege of working with Denise on leadership development. She is so incredibly astute at helping leaders leverage their greatest assets and personal style to truly deliver the best to their teams."
Sherry Edwards, Manager of Organizational Development, LogistiCare
"Denise custom designed a 4-day leadership program for the senior leaders at LogistiCare that was based on the Front Line Leadership content and provided a high level overview for senior leaders. This enabled them to support and coach the Front Line Leaders – as well as to adopt and model the behaviors themselves. Denise also facilitated the first program which received excellent ratings.
Denise and Robert have been phenomenal. They are supportive, helpful, and resourceful – and truly professional, experienced, responsive partners. This programs design and content is excellent and highly engaging. It is a very interactive program, full of tools and self-assessments, and practical models. We absolutely loved and responded to her."
Doreen Baker, Corporate Trainer, Farmers Edge
"The hallmark of Denise's character is her honesty. This extends from those areas where it is easily seen in relationships and business transactions, as well as in integrity of thought. She approaches any analytical task with an extracting eye that is thorough, and meticulous. This is the kind of care and concern I mean by integrity of thought.
Denise is one of the most pleasant individuals you'll ever meet as well she is forthright, but neither intimidates nor intrudes. She is genuinely friendly as well as honest. You will also be impressed with her professional manner."
Donte Fears, Leadership Development Consultant, LogistiCare
"Earlier this year I had the pleasure of joining a new company after facilitating with a major bank for 15 years. This new adventure was both exciting and nerve wrecking because my expectations were high, while still being unsure. When I was brought on board, I was introduced to a very bubbly vendor by the name of Denise McIntyre. We accidentally bumped into each other at a coffee shop prior to attending my first session with her. Right off the bat, I knew I was in good hands by her professional attire, warm smile and personable attitude. Within a short time of meeting my other peers and manager, Denise realized what our team needed to be successful and made it her personal goal to deliver. Over the next few weeks, her energy never died. She was upbeat, understanding, flexible, and open to all of the ideas and suggestions my team brought to her. She asked for constant input and challenged our thought process to make sure we kept everyone at all levels in mind. She followed up between each session to make sure our momentum was still strong. Denise and I still share best practices, months after our contract ended as well as share constant appreciation around learning from each other. I will personally say that my standards are high when it comes to other facilitators, Denise not only met my expectations, she exceeded them. Thank you for the partnership and I look forward to our constant growth together."
Kara Marchand, Director of Finance, First Nations University of Canada
"I have been working with Denise at The Learning Edge for well over 10 years. In the roles I have held over that time period, I have had the privilege of attending Managing Things…Leading People numerous times as well as participating in an 18-month Leadership Development Program. Anytime I have reached out to Denise and her team they have answered with a customized solution in areas like team building, individual coaching and self development from 363 assessments.
I believe the opportunity I have had to work with Denise and her team over the past many years has greatly influenced the leader I am today."
Donna Bailey, Director, Client Solutions and Research, Cusource
"We chose Denise and The Learning Edge because of the depth and breadth of experience and exposure using the DiSC® tool and the flexible full meal deal- everything from profiles, to customizing interventions for particular needs, train the trainer services, 363 consulting offer. We have just run our first TTT session and comments from our participants were that they were "blown away" by how open and sharing Denise was of her tacit knowledge, tips, and tools- her trade secrets from working with DiSC® profiles for so long. Behind Denise is a deep bench of qualified facilitators and consultants to support the work that needs to be done.
We have found Denise to be totally engaged in making our partnership work, she is highly responsive, and it is just like having another person on our own team."
Edwina Bateman, CEO, Avail HR Services Inc.
"I had the pleasure of receiving Front Line Leadership Facilitator Training from the Learning Edge. Denise is a fantastic trainer!
My training experience was very successful and interactive. All of the components of the program that is presented to help leaders carry out their responsibilities more effectively, Denise applies the same through her Facilitator Training. She empowers you with her best practices, providing great examples, and goes beyond the program details, with her follow-u p extras and reassurances.
Denise's enthusiastic engagement with her trainees compels you to look for ways to influence your performance. This is a specialized skill that Denise delivers with her coaching expertise. The whole process from start to finish was superb and will be a massive help to me going forward in my consulting business. It was an absolute pleasure facilitating this course with Denise and I will always value her personal input.
Bobbie-Jo Porter Personnel/Recruiting Manager, Olymel
Denise is a fantastic trainer, she was very adaptable to the group and was great at keeping participants engaged. Denise helped develop the confidence of the participants by using various methods of training to bring out the best in each person. She is passionate and enthusiastic about the material she teaches and very in tune with her audience.
-Anonymous
Fantastic energy, expert coach/facilitator. Relatable and honest examples in her own work life
and great sense of humor – thank you!