The Five Behaviors of a Cohesive Team™
Building A Strong Team Is Both Possible And Remarkably Simple
The Five Behaviors of a Cohesive Team™ is an assessment-based learning experience that helps individuals and organizations reveal what it takes to build a truly cohesive and effective team in the most approachable, competent, and effective way possible. Powered by Everything DiSC
®
, the profiles help participants understand their own DiSC
®
style. Bringing together everyone's personalities and preferences to form a cohesive, productive team takes work, but the payoff can be huge- for individuals, the team and the organization.
The Five Behaviors of a Cohesive Team™ helps teams understand how they score on the key components of The Five Behaviors model: trust, conflict, commitment, accountability, and results. Each individual on the team will also understand their own personality style and their team members' styles, based on the DiSC® model: D: Dominance, i: Influence, S: Steadiness, and C: Conscientiousness, and how their style contributes to the team's overall success. A team functions well beyond coexistence, achieving business results when members learn to master The Five Behaviors:
When team members are genuinely transparent and honest with one another, they are able to build vulnerability-based trust.
Engage CONFLICT Around Ideas
When team members build a foundation of vulnerability-based trust, they are able to engage in unfiltered, constructive debates of ideas.
When team members are able to offer opinions and debate ideas, they will be more likely to commit to decisions.
Hole One Another ACCOUNTABLE
When everyone is committed to a clear plan of action, they will be more willing to hold one another accountable.
Focus on Achieving Collective RESULTS
The ultimate goal of building greater trust, conflict, commitment, and accountability is one thing: the achievement of results.
The Five Behaviors of a Cohesive Team™ Profile
A comprehensive, highly personalized, and accessible 36-page illustrated report based on The Five Dysfunctions of a Team by Patrick Lencioni, that allows each person on the team, and the team as a whole, to understand how they scored on the assessment and how to interpret their individual and teams results. The profile includes an introduction, a section devoted to each of the five behaviors, a summary of the team's strengths and challenges, tips and suggestions, and a road map to help teams create an action plan based on their results.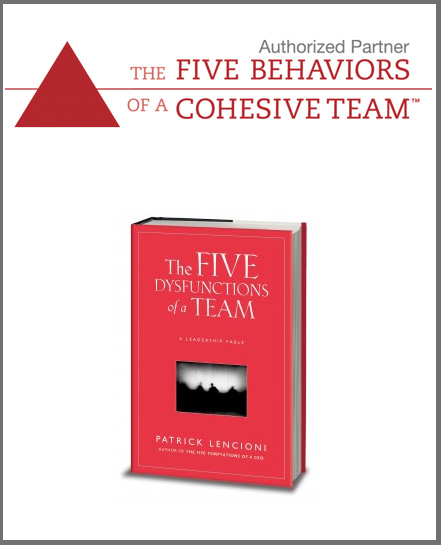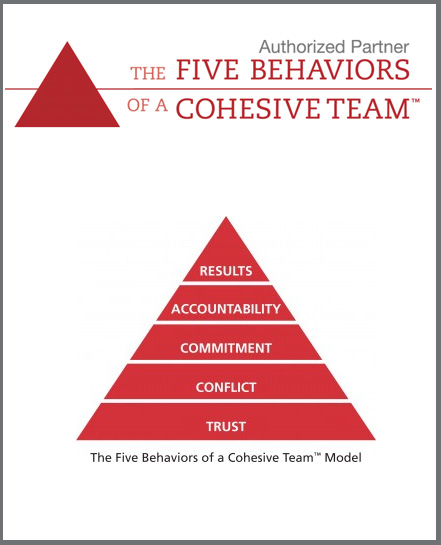 The Five Behaviors of a Cohesive Team™ Offerings
Online Assessment Only
Team: For Intact Teams
Personal Development: For Individuals
Accreditation
Become certified to facilitate in-house
Available In-person or Virtually
The Learning Edge Facilitation
Includes Online Assessment and Training
Available In-person or Virtually