Everything DiSC 363 For Leaders
How Are You Perceived By Others in the Workplace?
Everything DiSC 363 For Leaders combines the best 360 degree feedback with the simplicity and power of DiSC, plus three magistrates for improving leadership effectiveness. 363 For Leaders is meant for anyone who wants to use 360 degree feedback as part of their leadership development, whether they are a supervisor, emerging high-potential leader or an experienced executive. Leaders select an unlimited number of managers, peers, direct-reports and others to rate their leadership behaviors, both strengths and challenges, and provide constructive feedback. Leaders receive their next steps with the three areas they can focus on now to improve leadership effectiveness.  
EVERYTHING DiSC 363 MODEL
Leadership excellence is tied to a number of factors, including character, cognitive abilities, and interpersonal skills. The Everything DiSC 363 Leadership model focuses on the interpersonal realm, describing a rich spectrum of behaviors called Eight Approaches to Effective Leadership – Pioneering, Energizing, Affirming, Inclusive, Humble, Deliberate, Resolute, and commanding. 
EIGHT APPROACHES TO LEADERSHIP
Pioneering: 
A pioneering leader encourages the group to think creatively about their options and take changes on new opportunities.
Energizing: 
An energizing leader builds enthusiasm for the group's goals and develops a wide network of professional connections.
Affirming: 
An affirming leader is approachable and helps people feel good about their environment and their contributions.
Inclusive: 
An inclusive leader gets a variety of people involved in the decision-making process and shows concern for their opinions and feelings. 
Humble:
A humble leader maintains a modest, composed demeanor and can be relied upon to make decisions fairly.
Resolute: 
A resolute leader creates high standards for the group and insists on using methods that maximize efficiency. 
 Commanding: 
A commanding leader takes charge of situations with confidence and urges others to get results.
Deliberate:
A deliberate leader provides a sense of stability for the group by communicating clearly and ensuring that decisions are made carefully. 
The Coaching Phase of Everything DiSC 363 for Leaders:
Making sense of the data, interpreting the feedback, and framing information to constructively guide the leader.
Assisting the leader in identifying development areas and creating an action plan.
 Scheduling follow-up meetings to measure progress and promote accountability.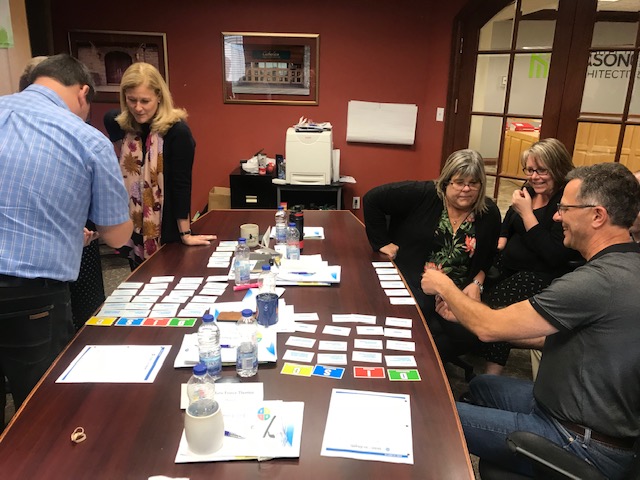 EVERYTHING DiSC 363 FOR LEADERS
The 363 for leaders process gives insights to leaders about their strengths and requested areas for further focus and development. Most organizations choose to administer through a process that includes a debrief of results with an experienced consultant from The Learning Edge. The leaders then complete an Individual Development to share with his or her direct supervisor. This is then used for ongoing coaching and continued growth.
Many leaders feel the process is a great form of recognition and are pleased with the positive feedback. Others use the input and awareness as a catalyst to change their workplace behavior to be more effective in their role as a leader.
As an organization, the 363 for leaders process can guide training decisions as we can generate themes from a group of 363 assessments completed. when the specific development needs are identified, leaders are engaged in finding solutions to enhance their skills. They are committed to the training opportunities that will encourage their growth and development.
LEARNER TAKEAWAYS FROM THE 363 FOR LEADERS PROCESS
Recognize the tendencies that shape their approach to leadership, based on their DiSC style
Understand how others see them as a leader and how their own self-ratings compare
Identify which of the Eight Approaches to Effective Leadership – and three ones that would benefit from further development
Learn three personalized strategies for becoming a more effective leader based on a specific rater feedback